The Gist
: Free Open Access Meducation (
FOAM
, #FOAMed) is essentially a
personalized, continually expanding medical curriculum that embraces an individual's attention deficits, evolves as one learns, encourages active learning, and pushes the bounds of one 'ought' to know
.
Here's a good summary of FOAM
. Life in the Fast Lane has an extensive list of FOAM resources and there's a new
FOAM search engine
.
What is FOAM? Dr. Mike Cadogan and those at Life in the Fast Lane founded the FOAM initiative and continue to build, encourage, and curate FOAM on the web.
Each day, I try to spread FOAM among the other rotating medical students, residents, paramedics, and attendings. I talk about blogs and podcasts, refer people to Dr. Mike Cadogan's video on FOAM, and, if at all possible, try to have the individual set up GoogleReader or an iPhone/Android/iPad app while I'm there. Although this may occasionally make me appear nerdy (which is clearly not the case) or overzealous, the rewards are excellent and manifest when an individual returns with, "So, what other blogs should I follow?" or "I used _____ on shift yesterday that I heard on one of the podcasts." It's amazing how quickly people get hooked!
Some individuals are skeptical or ambivalent towards FOAM, perhaps unaware of how this broad collection of resources can translate into real world clinical knowledge or wary of the time investment (note: it actually increases efficiency!). I can't comprehend why anyone would not partake in this amazing medical education outlet if they actually comprehended the intellectual benefit, personalization, and efficiency of FOAM.

I can't articulate the concept of FOAM adequately in the rare minute of downtime in the ED (hence the reason for this blog entry). In the hopes that others buy into the FOAM concept, I am compelled to share how the ways that FOAM is transforming me into a better future physician.


How does FOAM work for me?
Twitter
- I used to scoff at this form of social media, but I
became a convert
a few months ago. Since that time, this venue has proven to be incredibly useful.
Virtually attend conferences. I've "attended" EM conferences around the world, including Society of Academic Emergency Medicine (SAEM), International Conference of Emergency Medicine (ICEM), and multiple locally based EM conferences (NY, CA, Australia, etc).
Celebrating ICEM 2012, held in Dublin, from the United States
Discover new content.

I used to think I had an extensive blogroll, but Twitter continuously expands my list.

Individuals often tweet links to journal articles, videos, and blogs and following.

This allows one to "read" more extensively than one would otherwise. It's impossible to keep up with the copious amount of medical literature published, but Twitter helps with this as it's a portal into what others are reading and their take on the article/issue (intellectual voyeurism made incredibly simple)
Active learning.

Distilling an idea or message into 140 characters is tough, but definitely forces one to be mindful of the core content.
Twitter allows one to engage in conversations with individuals across the globe. This engenders collective problem solving, brainstorming, and debate. One can learn to think critically about clinical practice and literature. Recently, a Google Hangout journal club-esque event was organized and publicized via Twitter with EM/CC heavyweights.
Virtual pimping. Several people tweet "Question of the Day," including @Radiopaedia - on imaging, @jvrbntz - based on Academic Life in EM's Paucis Verbis cards, and @EMEducation. These are useful to test knowledge, but also often spark debates and conversations.

Diversify. Medicine and EM exist outside of the confine of one's nation. Learn what's going on across the world and track global trends and thought in medicine.
Build professional relationships across the globe.
Podcasts
- These are truly gems of FOAM, allowing one to listen to lectures and conversations from world renowned physicians and speakers at one's leisure. Learn more about them in this
post, dedicated to podcasts
.
Blogs
- FOAM blogs are the personalized, up-to-date textbooks of this century. They deliver information and insight with one's own interest and goals as a filter. Choose what you interests you, and see how quickly your interests are broadened. A
comprehensive repository
from LITFL.
All about FOAM blogs
.
Videos
- There's a plethora of 10-15 minute videos, packed with incredible medical education, on the web. Many of these are tweeted out and
EMCHATTER
also has a searchable database with summaries.
It seems that whenever I encounter a topic on a podcast or blog that seems esoteric or uninteresting, I invariably encounter the scenario in the clinical setting. I feel compelled to share a few examples of recent intersections between my clinical experiences and the #FOAMed world. Just a few examples:
Pimping made easy:
On 8/26/12, I skimmed over the blog "Mushrooms in the Valley" from the St. Emyln's blog. The post was on Morel-Lavallee lesions, something I barely filed away in my brain as esoteric knowledge. On 8/28/12, my second day of a new rotation, my attending pimped me on Morel-Lavallee lesions and I was able to answer without pause. Can FOAM predict the future? I'm pretty convinced.
A self-built curriculum:
On 8/27/12 and 8/29/12, I wrote on metacognition and cognitive bias. Days later, Dr. Michelle Johnston of LITFL posted an outstanding case based blog on cognitive error. The FOAM world supplemented my curriculum on cognitive error and clinical decision making in real time! Then, Dr.

Javier Benítez

posted a piece on Academic Life in EM on diagnostic tests and asking the right questions. Ask and ye shall receive (or, an example of availability bias).
Improved clinical skills resulting in tangible outcomes (a few examples as I can no longer quantify what FOAM brings to the table):
The Cunningham technique from ERcast to successfully reduce a shoulder dislocation without pain medication
A solid ocular ultrasound curriculum from the Ultrasound Podcast and SonoSpot allowed me to confidently diagnosis my first retinal detachment (and as a mac-off detachment, at that).
Countless discussions with patients on risks and benefits of diagnostic imaging in which I can talk to patients and physicians in terms that each understands (thanks to SMART EM and Duke's Emergency Medicine talks on iTunes).
Improved clinical skills that I use on a daily basis:
EMBasic's podcasts on various chief complaints have allowed me to assess patient's quickly and confidently present a solid differential with an accompanying plan. I no longer get nervous/try to avoid the charts with a chief complaint of "dizzy."
Employing evidence based medicine in everything from strep throat treatment to resuscitation (credit to innumerable pieces of FOAM).
Improved "book" knowledge
. I've used FOAM since just prior to entering medical school to supplement my education. As a clinically based learner, many FOAM sources make it easy for me to absorb the pathophysiology behind disease processes. Although I'm a trial of n=1, podcasts, blogs, and Twitter have allowed me to study at the gym, in the car, or while walking/waiting in lines. This has allowed me to maintain a "life" outside of studying.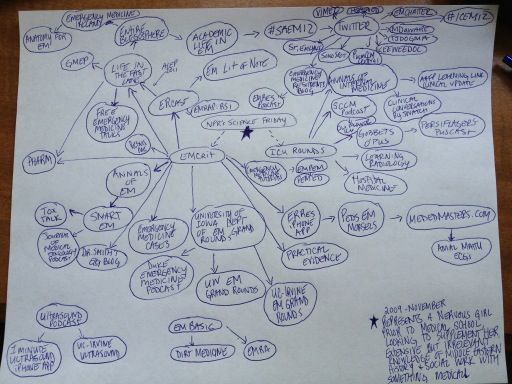 My FOAM journey